Highlights and impressions of EAUN19 in Barcelona
Twenty years have passed since the European Association of Urology Nurses (EAUN) held its first conference in Brussels. The number of participating nurses has increased and cooperation with national urology societies has intensified. Over 300 nurses from over 30 countries attended the meeting in Barcelona.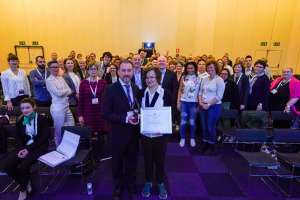 EAUN19 started with a warm welcome from the chairs of the EAU, EAUN and the Spanish Association of Urology Nurses Enfuro. This was followed by presentations from all chairs of the EAUN through the years who showed the development of the EAUN and the annual meeting in the past 20 years, and concluded with a view on the future by the current Chair, Ms. Susanne Vahr Lauridsen. The highlight of the session was the announcement of the winner of the first "Ronny Pieters Award": Mr. Ronny Pieters from Ghent, Belgium himself. The prize is a life-time achievement award, given to an EAUN  Member in recognition of an outstanding and enduring contribution to the development of Urological Nursing in Europe. Unfortunately, Mr. Pieters could not be there to receive the award himself.
In Barcelona several important meetings took place. Chairs of nine different associations of Urology Nurses met with the EAUN Board to discuss cooperation in the fields of education and guidelines, amongst others. The ongoing development of a Urological Nursing Curriculum was topic of another meeting, attended by Chairs, Presidents and representatives of ANZUNS, BAUN and EAUN.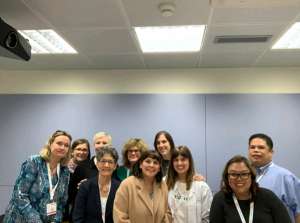 Supporting each other and sharing knowledge has been EAUN's philosophy since its inception. The 3-day EAUN Meeting provides a forum for presenting original unpublished data and sharing ideas for urological nursing innovation as well as disseminating (evidence-based) knowledge of primary clinical importance and of particular relevance to the role of the nurse. The various poster, video and difficult case sessions are good examples as well as the yearly organised visits to local (university) hospitals and the hands-on training session, this year covering the ins and outs of flexible cystoscopy. Found below are reports from some of the attendees and lecturers themselves.
Ms. Jeanette Christiansen Schulze's most inspiring experience was the visit to the Hospital Clinic of Barcelona. Nine nurses from different countries such as Greece, Germany, Australia, Ukraine, and Switzerland joined. Two nurses guided the group through the urology department; first the ambulatory and the day section, then the part where the admitted patients were staying. The Hospital Clinic in Barcelona is located in an older building but it has many spacious rooms. Ms. Christiansen: "I realised space is quite important, because in urology we use a lot of equipment. Moreover, every room in the ambulatory has its own toilet for the patients to do flows etc. That is something I wish for in my hospital. In Barcelona, they are very focused on preventing infections especially in recently operated patients and patients who have had an indwelling catheter for short or long time. In contrast to Denmark, they follow up on the patient after he/she has gone home, because he/she is still at risk of developing an urinary tract infection (UTI). I hope to introduce this practice in Denmark, in order to decrease the number of UTIs. Another difference between practices in Denmark and Spain is the manner of documentation. In Spain, nurses use smartphones as their journal and as a tool to order blood tests for patients, for example. I think this is great because they will have more time attending to their patients."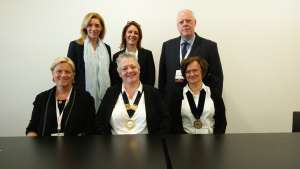 Ms. Vanessa McLean (UK) used the opportunity to attend a variety of sessions. A  session she found especially valuable was the "Bladder Special Interest Group: Bladder cancer – past, present and future perspectives". The session highlighted three different aspects of bladder cancer from three countries. The first session by Mr. Rajesh Nair, from Guys Hospital London (UK), examined BCG treatment. Looking at it from "Top 10 facts" was an engaging approach. The second session, by Ms. Elke Rammant, PhD Researcher at Ghent University (BE), explored exercise and psychological care in bladder cancer by outlining a study which has led to a digital programme to stimulate exercise at home. The third session by Ms. Anna Munk Nielsen, Trials Coordinator in Aarhus (DK), considered biobanking in bladder cancer care. It discussed the PAGER study and the aim of instituting individualised care through ctDNA testing and optimising a personal biomarker that can detect recurrence in non-muscle-invasive bladder cancer. The sessions proved of immense value to her clinically and professionally.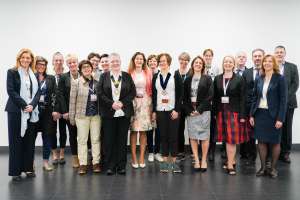 Mr. Robert McConkey (IE) noted that there were a number of sessions that he felt were essential for him. As his own role is focused on the management of patients with bladder cancer, he was committed to attend Thematic Session 3 by the Bladder Cancer Special Interest Group (SIG) and the inaugural meeting of the World Bladder Cancer Coalition. Both the Bladder Cancer SIG session as the World Bladder Cancer Patient Coalition (WBCPC) event were well attended. This highlights the fact that HPCs are interested in increasing their knowledge about conditions; promoting awareness; influencing political policymakers; and advocating for patients and support groups with the ultimate aim of improving patient outcomes. The WBCPC inaugural meeting was livestreamed on Twitter. Representatives from bladder cancer support and advocacy groups as well as, individual HPCs were present. While their aim is to create a strong global voice for bladder cancer patients, they also have a very ambitious goal of establishing national chapters in countries which do not yet have dedicated bladder cancer support networks. The enthusiasm at this meeting was palpable.
The highlight of the meeting for Mrs. Ingrid Iversen from Norway was the introduction of the update of the EAUN Guideline on Transrectal Ultrasound (TRUS) Guided Prostate Biopsy. The new guideline was presented by Ms. Corinne Tiller who did a great job. The Guidelines show that nurses can safely perform prostate biopsies with no increase in complications if they are adequately trained and supervised by a competent practitioner. They must, like other new practitioners, perform at least 50 biopsies with supervision before being signed off as competent to practice on their own. Nevertheless, it is essential to confer with an experienced urologist. It is also important that patients receive an up-to-date, evidence-based and easy to understand patient information leaflet prior to TRUS biopsy. After the session the delegates received a plasticised "Anti-coagulation use" card. It is an easy reference for nurses that have to prepare patients for this procedure and need to know when the patient should stop taking anti-coagulation, also available for download on the EAUN website.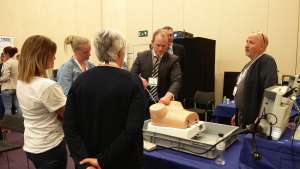 Mrs. Franziska Geese from Switzerland shared insights on the thematic session on sexual health:
"Those who work as urology nurses are aware of the taboo topics in the care of patients. The aim of the Joint Session of the EAUN and the Australia & New Zealand Urological Nurses Society (ANZUNS) was to familiarise nurses with different professional perspectives and to expand their expert knowledge. The topic "Sexual Health Matters" focused on the existential needs of patients with urological problems."
With the support of the experts Ms. Kathryn Schubach, Nurse Practitioner in Uro-Oncology & Chair of  ANZUNS (AU), Ms. Jeanette Verkerk-Geelhoed, Clinical Nurse Specialist Endourology (NL), and Ms. Belinda Winder, Prof. of Forensic Psychology (GB), three different perspectives on the promotion of sexual health were given: "ANZUNS presentation: Sexual dysfunction – an Australian Nurse Practitioner`s perspective"; "The penis: The stubborn myths"; "The challenges of hypersexuality in men and women". In summary, all three experts made it clear that there is a need for interprofessional cooperation in the promotion of sexual health. It was well demonstrated how professions can learn from each other and how the exchange of experiences across cultural boundaries is beneficial to promote sexual health.
All in all EAUN19 exceeded the expectations of many participants and they are already looking forward to the meeting next year in Amsterdam. For this EAUN20 meeting travel grant, abstract, research plan and difficult case submission will open soon! Make sure to avail of the opportunities to receive a complimentary registration or a grant of 500 euro. Watch out for e-mailings and the new website from 1 July 2019: www.eaun20.org