The EAUN presents this prestigious award to recognise and celebrate dedication and innovation in urological nursing research and practice. The award is named after Ronny Pieters to honour his pioneering achievements and contributions to urology nursing and the constitution and development of the European Association of Urology (EAUN). Ronny Pieters (Ghent, BE) was the catalyst and instrumental driving force behind the organisation of the first meeting for European Nurses working in Urology, that was held in Brussels in 2000.
Subsequent to this, Ronny, in collaboration with other colleagues across the continent, provided the leadership that ultimately led to the creation of the European Association of Urology Nurses.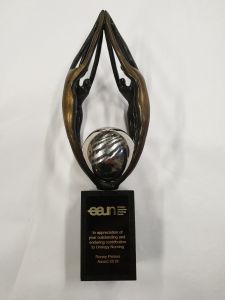 Over the last two decades Ronny has served as a role model for others to emulate, through his unshakable belief in the importance of the role of the nurse in ensuring high quality care for people with urological disorders.
Providing both vision and commitment, the example of Ronny's contribution to Urology Nursing acts as a beacon for others to follow, so that together we may increase our knowledge, influence and impact upon those who need us most – our patients. Ronny demonstrates the best of who we are as urology nurses with his unfailing respect for the patient, his colleagues and the art and science that informs and guides our practice.
The EAUN Ronny Pieters Award is a discretionary award established to recognise a person who, in the estimation of the EAUN Board, has provided an outstanding and enduring contribution to the development of urological nursing in Europe. The award is a vital acknowledgement of the fact that the international urological nursing community is progressive and continues to push the limits of what is known today.
The award was presented for the first time in 2019 to Ronny Pieters himself. This year, the winner will be  announced and the award presented to the winner at the congress. The award winner will also be recognised in the EAUN Award Gallery (in the Resource Centre) and on the EAUN website.
For full details on how to nominate an outstanding colleague please check the EAUN website
Nominations can be submitted until 1 November 2023